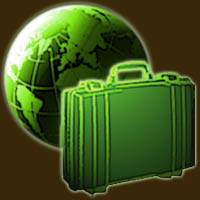 TTB RECIPIENTS


CLICK HERE
THE TRAVELING TERABYTE PROJECT
CURRENT CONTENT LISTING
I did the math, and the current TTB library would exceed 5,000 hours if played in its entirety. (See the lists below for a more detailed breakdown.) A single person could listen and watch these materials twenty-four hours a day for seven straight months!

Of course, deployed personnel don't have the ability to relax with movies and music 100% of the time... so let's assume that a person were to watch and listen for only eight hours a day. This is still quite likely far more time than a servicemember could devote to entertainment, even during periods of extended calm. And yet, even then... it would take 633 days (over 21 months) to consume it all.

A typical platoon could enjoy the Traveling Terabyte, without any person viewing or hearing the same thing as any other person, and even then it would run over 100 hours, nearly two straight weeks... all from something the size of a few cigarette packs.
Video
Movies
(470 hours)

10th and Wolf
11:14
13 Tzameti
21
28 Days Later
3:10 to Yuma
300
3000 Miles To Graceland
A History of Violence
A Knight's Tale
A Midnight Clear
Adventureland
'on Flux
After The Sunset
Alien
Aliens
Alien3
Almost Famous
Along Came a Spider
Alpha Dog
American Beauty
American History X
Any Given Sunday
Apollo 13
Assault on Precinct 13
Babel
Back to the Future
Banlieue 13
Big Trouble In Little China
Black Hawk Down (BluRay)
Blade
Blade II
Blade Runner
Blade Trinity
Blow
Boondock Saints
Borat
Bourne Identity
Bourne Supremacy
Bourne Ultimatum
Breach
Broken Arrow
Brother From Another Planet
Cannonball Run
Catch Me If You Can
Christine
Cinderella Man
Collateral
Con Air
Count of Monte Cristo
Coyote Ugly
Crank
Crash
Crimson Tide
Cube
Dark City
Dark Knight
Dazed and Confused
Demolition Man
Devil's Advocate
Devil's Rejects
Dollars Trilogy
Donnie Darko
Doom
Doomsday
Dude Where's My Car
Duel
Enemy at the Gates
Enemy Below
Enemy of the State
Equilibrium
Eraser
Escape From New York
EuroTrip
Face Off
Fast Times at Ridgemont High
Fear and Loathing in Las Vegas
Fight Club
Firewall
Flags of Our Fathers
Flight of the Phoenix
Four Brothers
From Hell
Frost Nixon
Ghost Dog
Ghost Rider
Gone In 60 Seconds
Good German
Good Night and Good Luck
Good Shepherd
Gran Torino
Green Street Hooligans
Half Baked
Hitchhiker's Guide To The Galaxy
Hostage
Hostel
Hunt For Red October
Huo Yuan Jia (Fearless)
I, Robot
Ice Station Zebra
Independence Day
Invincible
Jackie Brown
Jacob's Ladder
Jing Wu Men (Fist of Fury)
Johnny Mnemonic
Kiss Kiss, Bang Bang
L.A. Confidential
Last of the Mohicans
Letters From Iwo Jima
Live Free or Die Hard
Lock Stock and Two Smoking Barrels
Lord of War
Lost Boys
Lucky Number Slevin
Mad Max
Mad Max 2 - The Road Warrior
Mad Max 3 - Beyond Thunderdome
Man On Fire
Master and Commander
Maximum Overdrive
Mean Machine
Memento
Miller's Crossing
Mystic River
No Country For Old Men
North by Northwest
O Brother, Where Art Thou
Ocean's Eleven
Ocean's Twelve
October Sky
Out of Sight
Outland
Pan's Labyrinth
Passenger 57
Predator
Predator 2
Primal Fear
Queen of the Damned
Rambo IV
Red Dawn
Religulous
Remember the Titans
Remo Williams
Repo Man
Requiem for a Dream
Ronin
Running Man
Sahara
Saw pictures
Se7en
Serenity
Shoot 'Em Up
Silence of the Lambs
Sin City
Sleepy Hollow
Smokin' Aces
Snakes On A Plane
Snatch
Space Cowboys
Star Trek
Stargate
Stigmata
Strange Days
Superbad
Swordfish
Taken
Taking Chance
Ten Til Noon
Tenacious D - The Pick of Destiny
Terminator
Terminator 2 - Judgment Day
Terminator 3 - Rise of the Machines
The Amityville Horror
The Aristocrats
The Aviator
The Big Lebowski
The Black Dahlia
The Blues Brothers
The Burbs
The Caine Mutiny
The Cave
The Chumscrubber
The Defiant Ones
The Departed
The Descent
The Exorcism of Emily Rose
The Field
The Fifth Element
The Fountain
The Game
The Godfather
The Hangover
The Hills Have Eyes
The Ice Harvest
The Illusionist
The Last King of Scotland
The Life of David Gale
The Lookout
The Lost Boys
The Machinist
The Magnificent Seven
The Maltese Falcon
The Prestige
The Rock
The Salton Sea
The Shining
The Siege
The Simpsons Movie
The Taking Of Pelham 1 2 3
The Warriors
The Wraith
They Live
Thirteen Days
This Is Spinal Tap
Top Gun
Total Recall
Training Day
Trainspotting
Transporter
Troy
True Romance
Twelve Monkeys
Unbreakable
Undead
Underworld
Underworld Evolution
Usual Suspects
V For Vendetta
W
Waiting
Wedding Crashers
Wo Hu Cang Long (Crouching Tiger, Hidden Dragon)
Wolf Creek
X-Men
Ying Xiong (Hero)
Zombie Films

TV Shows
(861 hours)
(the TTB contains full archives of the following TV series, updated as of May 2010)

Aqua Teen Hunger Force
Archer
Band of Brothers
Chappelle's Show
Cowboy Bebop
Deadliest Catch
Family Guy
Firefly
Futurama
Generation Kill
In Living Color
Mad Men
Monty Python
MythBusters
Penn & Teller - Bullshit!
Robot Chicken
South Park
The Prisoner
The Simpsons
The West Wing
Tiger Team
True Blood
Weeds

Music Videos
(91 hours)

nearly 1,000 music videos... mostly rock, punk, and electronic

DEFCON Filler
(33 hours)

those who know what this is know that it's good. ;-)

Stand-Up Comedy
(58 hours)

Aries Spears - Comedy Central Presents
Arj Barker - Comedy Central Presents
Bill Burr - Comedy Central Presents
Bill Hicks - Sane Man
Bill Maher - Be More Cynical
Bill Maher - I'm Swiss
Bill Maher - The Decider
Blue Collar Comedy Tour
Brian Regan - Comedy Central Presents
Chris Rock - Bring The Pain
Dane Cook - Harmful If Swallowed
Dane Cook - Premium Blend
Daniel Tosh - Comedy Central Presents
Dat Phan - Comedy Central Presents
Dave Attell - Captain Miserable
Dave Attell - Comedy Central Presents
Dave Attell - Comedy Half Hour
Dave Attell - Insomniac Tour Uncensored
Dave Chapelle - For What It's Worth
Dave Chappelle - Comedy Half Hour
Dave Chappelle - Platinum Comedy Series
Demetri Martin - Comedy Central Presents
Demetri Martin - Person
Denis Leary - Comedy Central Roast
Denis Leary - Lock 'n Load
Denis Leary - No Cure For Cancer
Doug Stanhope - 2004 - Deadbeat Hero
Doug Stanhope - 2007 - No Refunds
Elvira Kurt - Comedy Central Presents
Frank Caliendo - Comedy Central Presents
Gabriel Iglesias - Comedy Central Presents
Gary Valentine - Comedy Central Presents
George Carlin - Carlin at Carnegie
George Carlin - Complaints and Grievances
George Carlin - Jammin in New York
George Carlin - Life Is Worth Losing
George Carlin - Live in New York
George Carlin - Personal Favorites
Greg Behrendt - Comedy Central Presents
Greg Fitzimmons - Comedy Central Presents
Greg Giraldo - Comedy Central Presents
Greg Proops - Comedy Central Presents
Hugh Fink - Comedy Central Presents
Jeff Dunham - Comedy Central Presents
Jeff Foxworthy - Comedy Central Roast
Jim Breuer - Hardcore
Jim Gaffigan - 2000 - Comedy Central Presents
Jim Gaffigan - 2006 - Beyond The Pale
Jim Gaffigan - 2009 - King Baby
Johnny Sanchez - Comedy Central Presents
Kathy Griffin - 2004 - Allegedly
Kathy Griffin - 2004 - Hidden Segment
Kathy Griffin - 2004 - Home Movies
Kathy Griffin - 2005 - Is Not Nicole Kidman
Kathy Griffin - 2006 - Strong Black Woman
Kathy Griffin - 2007 - Everybody Can Suck It
Kathy Griffin - 2008 - Straight to Hell
Kevin James - Sweat The Small Stuff
Kevin Meaney - Comedy Central Presents
Lewis Black - 1998 - Comedy Central Presents
Lewis Black - 2000 - Comedy Central Presents
Lewis Black - 2002 - Comedy Central Presents
Lewis Black - Black on Broadway
Lizz Winstead - Comedy Central Presents
Louis Ramey - Comedy Central Presents
Margaret Cho - Comedy Half Hour
Margaret Cho - Notorious Cho
Mike Birbiglia - Comedy Central Presents
Mitch Hedberg - Comedy Central Presents (Uncut)
Pablo Francisco - Comedy Central Presents
Pam Anderson - Comedy Central Roast (Secret Stash)
Patton Oswalt - No Reason to Complain
Richard Jeni - Comedy Central Presents
Robin Williams - Live on Broadway
Ron White - Comedy Central Presents
Ron White - They Call Me Tater Salad
Stephen Lynch - Comedy Central Presents
Steve Mcgrew - Comedy Central Presents
The Amazing Jonathan - Comedy Central Presents
The Sklar Brothers - Comedy Central Presents
Tom Papa - Comedy Central Presents
Tony Woods - Comedy Central Presents
Whoopi Goldberg - Back to Broadway

Knowledge
(91 hours)

Fuck (a terriffic documentary all about the F-word)
Grass: The History of Marijuana
Gunner Palace
Hacker Con Talks
Hackers Are People, Too
History Channel
Kevin Smith interviews
Legend of Ron Jeremy
Super High Me
This Film Is Not Yet Rated
Audio
Music
(1,316 hours)

Alternative, Punk, & Indie

30 Seconds To Mars
311
Alice In Chains
Ani DiFranco
Anj
Anti-Flag
Ash
Avail
B N L
Baby Chaos
Bad Astronaut
Bad Religion
Ben Folds Five
Bitch & Animal
Blink 182
Blur
Bush
Butt Trumpet
Buzz Ballads
Cake
Cansei de Ser Sexy
Chris Cornell
Chumbawamba
Counting Crows
Cracker
Creed
Dead Kennedys
Dean Gray
Dropkick Murphys
Everclear
Filter
Flogging Molly
Foo Fighters
Fuel
Gin Blossoms
Goo Goo Dolls
Green Day
Howie Day
Incubus
Irish Punk Drinking Songs
Jane's Addiction
Jason Mraz
Johnny Sun
Lagwagon
Limp Bizkit
Lit
Live
Matchbox 20
Natalie Imbruglia
Nick Casey Band
Nirvana
NOFX
Payable On Death
Pearl Jam
Pennywise
Pink
Puddle of Mudd
Puscifer
Radiohead
Rage Against The Machine
Ramones
Rancid
Reagan Youth
Red Hot Chili Peppers
Rob Thomas
Saving Jane
Screw Flanders
Sex Pistols
Smashing Pumpkins
Smashmouth
Stabbing Westward
Staind
Stone Temple Pilots
Stretch Princess
Strike Anywhere
Stroke 9
Sublime
Sunday's Murder
The A.K.A.s
The Avengers
The Dead Pets
The Frames (& Swell Season)
The Juliana Theory
The Nixons
The Offspring
Third Eye Blind
Tonic
Tool

Bass, Hip-Hop, R&B, Dance

Apollo Four Forty
Beastie Boys
Christina Aguilera
Crazy Town
Eazy E
Eminem
Grand Buffet
King Bee
Lady GaGa
MC Lars & YTCracker
Pendulum
Porn Music
Public Enemy
Rihanna
Tuff Crew

Classical, Orchestral, & Vocal

Andrea Bocelli
Andrew Lloyd Webber
Bach
Beethoven
Berlioz
Bond Quartet
Carl Orff
Chopin
Four Disc Classical Music Collection
Mozart
Rock Music String Tributes
Symphonic Led Zeppelin
Tchaikovsky
Yo Yo Ma

Eighties

Assorted Rock
Bryan Adams
Def Leppard
Depeche Mode
Dire Straits
Guns 'N Roses
Hooters
Motley Crue
Peter Gabriel
Poison
Soft Rock
Whitesnake

Electronic

2 PM
Afro Celt Soundsystem
Air
AniMusic
Assemblage 23
Azek's Club Music
BT
Chemical Brothers
Crystal Method
Daft Punk
DefCon 13
DefCon 15
Deviant's Smooth Groove
DJ Dopamine
DJ Jackalope
DJ Rap
Enigma
Fatboy Slim
Ger's G-Mixes
GiGi D'Agostino
Hybrid
Italo 4 Ever Summermix
Jean Michel Jarre
Leftfield
Moby
Nitin Sawhney
Paul Oakenfold
Praga Khan
Prodigy
Pual Van Dyke
Rabbit In The Moon
Regenerator
Robert Miles
R"yksopp
The Future Sound Of London
Thievery Corporation
Virt
Zoltar
... plus a fuckton of compilations

Folksy Bluesy Country

Alix Olson
Billy Bragg
Bluegrass Tributes
Bluesy Chill Out
Bobby Blues Rutledge
Celtic & Gaelic Music
Cordero
Dixie Chicks
Girlyman
Greg Brown
Indigo Girls
Israel Kamakawiwo'ole
Jazz and '80s
Johnny Cash
Les Witches
misc. country
Paperboys
Peter, Paul, & Mary
Sarah McLachlan
Tir na nOg

Grateful Dead

1967 - The Grateful Dead
1968 - Anthem of the Sun
1969 - Aoxomoxoa
1969 - Live Dead
1970 - American Beauty
1970 - Workingman's Dead
1971 - Fillmore East Final Shows
1971 - Grateful Dead
1971-12-14 - Hill Auditorium
1972 - Europe 72
1974 - Skeletons From The Closet
1975 - One Form the Vault
1977 - Dick's Picks vol 3
1977 - Terrapin Station
1977-05-08 - Barton Hall, Cornell, NY
1979-12-28 - Oakland Auditorium
1987 - In the Dark
1990 - Songs of Bob Dylan
1991-09-20 - Boston Garden
2003 - Camden, NJ

Hard Rock

Anthrax
Ashes Divide
Beatallica
Breaking Benjamin
Disturbed
Godsmack
Iron Maiden
KMFDM
Kreator
Linkin Park
Lords of Acid
Megadeth
Metallica
Method of Destruction
Mindless Self Indulgence
Ministry
Motorhead
MTV2 Headbangers Ball
Mudvayne
Nine Inch Nails
Octane
Orgy
Pantera
Pop Will Eat Itself
Queensr˜che
Rammstein
Slayer
Stabbing Westward
Stormtroopers of Death
System of a Down
Three Days Grace
Venom
Viking Rock
White Zombie

Oldies

50's & 60's Doo-Wop
Artie Shaw
Cliffs of Dover
Frank Sinatra
Jackson Five
Miles Davis
Otis Redding
The Temptations

Pink Floyd

1966 - Interstellar Overdrive
1966 - The Early Singles
1967 - Piper at the Gates of Dawn
1968 - Saucerful of Secrets
1969 - More
1969 - Ummagumma
1970 - Atom Heart Mother
1971 - Atom Heart Mother on the road
1971 - Meddle
1971 - Relics
1972 - Obscured by Clouds
1973 - Dark Side of the Moon
1973 - Dark Side of the Moon (Original Master Recording, Gold Edition)
1973 - live in Philadelphia (1973-03-15, soundboard)
1975 - Wish You Were Here
1976 - Holes In The Sky (live)
1977 - Animals
1977 - live in Fort Worth (1977-05-01)
1979 - The Wall
1980 - live in New York (1980-02-26)
1983 - The Final Cut
1983 - Works
1987 - live in Miami (1987-11-01)
1987 - Momentary Lapse Of Reason
1988 - The Delicate Sound of Thunder
1994 - The Division Bell
1996 - Pulse
2004 - Tree Full Of Secrets
2005 - Live 8 (2005-07-02)

Rock

AC-DC
Aerosmith
Allman Brothers Band
American Classic Rock
Andrew W.K
Apocalyptica
Beatles
Ben Harper
Black Sabbath
Blue Man Group
Blues Brothers
Blues Traveler
Bob Dylan
Bon Jovi
Chicago
Cream
David Bowie
David Gilmour
Eagles
Eric Clapton
Fleetwood Mac
Foghat
George Thorogood
Jack Johnson
Jimi Hendrix
Jimmy Buffett
Kelly Bell Band
Kool & The Gang
Led Zeppelin
Legends of the 70s
Lynyrd Skynyrd
Minibosses
Monster Ballads
Muse
Ozzy Osbourne
Peace Not War
Phish
REM
Richie Havens
Roger Waters
Rolling Stones
Rush
Santana
Sheryl Crow
Steve Miller
The Beach Boys
The Cars
The Darkness Within
The Doors
The Police
The Rutles
The Who
Tom Petty
U2
Van Halen
Velvet Underground

Ska, Reggae, & Dub

Asian Dub Foundation
Augustus Pablo
Bad Manners
Bassest Dub
Best of Ska
Bob Marley
Buck-O-Nine
Burning Spear
Damian Marley
Floorfillers Reggae
Jackie Mittoo
Lee Perry & Dub Syndicate
Less Than Jake
Linton Kwesi Johnson
Madness
Mark Foggo's Skasters
Mighty Mighty Bosstones
No Doubt
Operation Ivy
Reel Big Fish
Reggae for Romance
Scientist
Skankin' Pickle
Skarmageddon
Skatalites
Sly & Robbie
The Skalatones
The Toasters
Zion Dub

Soft

10000 Maniacs
Dead Can Dance
Haibane Renmei
Harry Connick Jr
James Taylor
Norah Jones
Paula Cole
Simon & Garfunkel
Sixpence
Tori Amos
Yuri Sazonoff

Soundtracks

1967 - Turn On, Tune In, Drop Out
1967 - You're A Good Man Charlie Brown
1969 - Easy Rider
1975 - A Chorus Line
1978 - Animal House
1979 - Festival
1981 - Heavy Metal
1983 - Snoopy
1983 - Star Wars Trilogy
1985 - Les Miserables
1986 - When The Wind Blows
1987 - Phantom of The Opera
1990 - Goodfellas
1992 - Reservoir Dogs
1992 - The Last of the Mohicans
1993 - Dazed & Confused
1994 - Braveheart
1994 - Pulp Fiction
1997 - Titanic
1998 - Blade
1998 - Dead Man On Campus
1998 - Ronin
1999 - Brokedown Palace
1999 - Fight Club
1999 - Go
1999 - James Bond - The Best Of 007
1999 - Run Lola Run
1999 - The Matrix
1999 - The Mummy
2000 - Almost Famous
2000 - O Brother, Where Art Thou
2000 - Requiem For A Dream
2000 - Romeo Must Die
2000 - The Watcher
2001 - Amelie
2001 - Black Hawk Down
2001 - Swordfish
2003 - Angels In America
2003 - Daredevil - Score
2003 - Daredevil - Soundtrack
2003 - Elegies
2003 - Kill Bill (kickin' mix)
2003 - Kill Bill (whimsical mix)
2004 - Avenue Q
2004 - Garden State
2004 - Harry Potter
2004 - Jersey Boys
2004 - The Bourne Supremacy
2005 - Elizabethtown
2005 - RENT
2005 - Scryed
2005 - Serenity
2005 - Weeds
2006 - Once
... plus tons of TV theme songs, hah!

Swing

Big Bad Voodoo Daddy
Brian Setzer Orchestra
Cherry Poppin' Daddies

World Music

Axiom Collection
Feng Shui
Malaysian albums
Native American
Raquy Danziger
Traveler's Companion

Audiobooks & Lectures
(1,800 hours)

Al Franken - The Truth (With Jokes)
Albert Camus - The Stranger
Albert Einstein - Relativity
Aldous Huxley - Brave New World
Allen Ginsberg - Howl and other poems
Allen Ginsberg - misc
Americas in the Revolutionary Era
Anne Frank - The Diary Of A Young Girl
Aristotle - Politics
Aristotle - Rhetoric, Poetics and Logic
Arthur Golden - Memoirs of a Geisha
Augusten Burroughs - Running with Scissors
Ayn Rand - Atlas Shrugged
Ayn Rand - The Fountainhead
Ben Stein - How To Ruin Your Life
Beowulf
Bill Bryson - A Short History of Nearly Everything
Bill Bryson - A Walk in the Woods
Bill Bryson - I'm a Stranger Here Myself
Bill Bryson - Made In America, An Informal History Of The English Language In The US
Bill Bryson - Notes From A Small Island
Bill Bryson - The Lost Continent, Travels in Small-Town America
Bill Hicks
Bill Maher - New Rules
Bill Maher - When You Ride Alone You Ride With Bin Laden
Biology and Human Behavior - The Neurological Origins of Individuality
Brian Fagan - Human Prehistory and the First Civilizations
C. S. Lewis - Chronicles of Narnia (Complete & Unabridged)
Carl Sagan - Demon Haunted World
Carl Sagan - Pale Blue Dot
Chalmers Johnson - Nemesis
Charles Fishman - The Wal-Mart Effect
Christopher Buckley - Thank You For Smoking
Christopher Hitchens - God Is Not Great
Dante - The Divine Comedy
Dave Matthews Band Interview
Def Poetry
Douglas Adams - Dirk Gently's Holistic Detective Agency
Douglas Adams - Hitchhiker's Guide
Douglas Adams - Starship Titanic
Douglas Adams - The Internet, The Last Battleground
Douglas Adams - The Long Dark Teatime of the Soul
Douglas Adams - Tribute by the BBC
Drew Carey - Dirty Jokes And Beer
Dylan Thomas - Reading Yeats and others
E. B. White - Charlotte's Web
E. B. White - Stuart Little
Edgar Allen Poe - The Raven (read by Christopher Walken)
Ellen Schrecker - American Inquisition, The Era of McCarthyism
Emerson, Thoreau, and the Transcendentalist Movement
Eric Schlosser - Reefer Madness
Eve Ensler - The Vagina Monologues
F.E. Peters - One God Three Faiths
Five Minute Linguist - Talkin' About Talk
Founding Brothers
Franz Kafka - Amerika (BBC Drama)
Freedom - The Philosophy of Liberation
Fyodor Dostoevsky - The Brothers Karamazov
George Orwell - Animal Farm
George Orwell - Ninteen Eighty-Four
Great Speeches of the 20th Century
H. W. Brands - The Life and Times of Benjamin Franklin
Henry Rollins - Black Coffee Blues
Henry Rollins - Nights Behind the Tree Line
Henry Rollins - The Boxed Life
Howard Fineman - Thirteen American Arguments
Howard Zinn - Lectures
Hunter S. Thompson - Fear & Loathing in Las Vegas (performance)
Hunter S. Thompson - Fear & Loathing in Las Vegas (unabridged novel)
Hunter S. Thompson - Lecture at UCLA (1984-02-24)
Hunter S. Thompson - The Rum Diary (unabridged)
J. K. Rowling - Harry Potter series
James Risen - State Of War
James Schmidt - The Enlightenment, Reason, Tolerance, and Humanity
James Surowiecki - The Wisdom of Crowds
Jello Biafra - spoken word performances
Jeremy Scahill - Blackwater
John Keating - History of Warfare
John Steinbeck - The Grapes Of Wrath
Jon Stewart - America
Joseph Heller - Catch-22
Joshua Dressler - Criminal Procedure
Kenneth W. Harl - Great Ancient Civilizations of Asia Minor
Kurt Vonnegut - A Man Without A Country
Kurt Vonnegut - Breakfast of Champions
Kurt Vonnegut - Cat's Cradle
Kurt Vonnegut - Slaughterhouse Five
Larry King - How To Talk To Anyone, Anytime, Anywhere
Lawrence M. Friedman - Law In America
Leet Skills & Hacker Con Lectures
Lucid Dreaming
Malcolm Gladwell - Blink
Mark Twain - Huckleberry Finn
Mark Twain - On the Decay of the Art of Lying
Mark Twain - The Adventures of Tom Sawyer
Michael Shermer - Why People Believe Weird Things
Noam Chomsky
Orson Scott Card - Enders Game
Phil Lesh - Searching for the Sound, My Life With the Grateful Dead
Philip Cary - Philosophy and Religion in the West
Philip K. Dick - A Scanner Darkly
Philip K. Dick - Do Androids Dream of Electric Sheep
Philip K. Dick - Galactic Pot Healer
Philip K. Dick - Martian Time Slip
Philip K. Dick - Minority Report and other strories
Philip K. Dick - Of Withered Apples
Pink Floyd - Audio Documentary
Pink Floyd - Maximum Floyd biography
Pink Floyd - Westwood One Radio Interview Special
Plato, Socrates, and the Dialogues
Princeton Language Institute - 10 Days to a Sharper Memory
Prof. James Gelvin - Palestine, Zionism, and the Arab-Israeli Conflict
Ray Bradbury - Fahrenheit 451
Rick Atkinson - The Day of Battle
Roald Dahl - James and the Giant Peach
Roald Dahl - Matilda
Roald Dahl - The BFG
Roald Dahl - The Magic Finger
Robert Baer - See No Evil
Robert Green - 33 Strategies of War
Robert Heinlein - Starship Troopers
Robert Heinlein - Stranger in a Strange Land
Samuel Beckett - Waiting for Godot
Samuel Coleridge - The Rhyme of the Ancient Mariner
Sebastian Haffner - Defying Hitler A Memoir (Unabridged)
Shel Silverstien - A Light In The Attic (selections read by the author)
Simon Winchester - The Meaning of Everything, The Story of the Oxford English Dictionary
Star Wars Novels
Stephen Hawking - A Briefer History of Time
Stephen Hawking - The Theory of Everything
Stephen Hawking - The Universe In A Nutshell
Stephen King - The Shining
Steven Johnson - Your Brain and the Neuroscience of Everyday Life
T. S. Eliot - The Wasteland
Tao Te Ching
Teofilo F. Ruiz - Medieval Europe Crisis and Renewal
Terence McKenna - speaking events
Terence McKenna - True Hallucinations
The American Mind
The Bible
The Lord of the Rings (BBC dramatization)
The Marijuanalogues
The Terror of History
Thomas Rockwell - How To Eat Fried Worms
Tim O'Brien - The Things They Carried
Timothy Leary - LSD
Timothy Leary - Turn On, Tune In, Drop Out
Tom Brokaw - The Greatest Generation
Tom Clancy - The Hunt For Red October
Tools of Thinking
Upton Sinclair - The Jungle
Vladimir Nabokov - Lolita
Voltaire - Candide
W.R. Cook and R.B. Herzman - Dante's Divine Comedy
Walt Whitman - Song of Myself Selections
Walt Whitman - When Lilacs Last in the Dooryard Bloom'd
War of the Worlds (Performed by the cast of Star Trek)
War of the Worlds (The Classic 1938 Mercury Theatre on the Air)
William Faulkner - The Sound And The Fury
William Gibson - Neuromancer
William Gibson - Virtual Light
William Hogeland - The Whiskey Rebellion
William S. Burroughs - Junky

Comdey
(40 hours)

Adam Sandler
Cheech & Chong
Chris Rock
Demetri Martin
Denis Leary
Doug Stanhope
Four Postmen
George Carlin
Jeff Foxworthy
Jerky Boys
Kathy Griffin
Kevin James
Lenny Bruce
Monty Python
Richard Cheese
Richard Pryor
Stephen Lynch
Steve Martin
unsorted

Foreign Languages
(303 hours)
(self-guided educational lessons)

Arabic
Brazilian Portuguese
Cantonese Chinese
Creoloe
Czech
French
German
Greek
Hebrew
Hindi
Norwegian
Polish
Russian
Spanish
Swahili
Ukranian
Player Software
Also included on the Traveling Terabytes are all software and codecs that would be necessary to play all of the above files under a windows environment. Apple and Unix systems tend to require no additional sotware due to the open formats in which all content is encoded.